USBands Virtual Competition – Standstill Category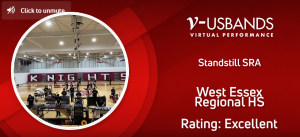 Congratulations to the West Essex Indoor Percussion ensemble for earning a rating of "Excellent" at their recent virtual competition hosted by USBands.  The 2021 show, "Arachnid" is a technically challenging one, and these results demonstrate the hard work and dedication of this group of talented students.  Click here to watch the show!
There is one more competition remaining for the 2021 season, and we wish the Indoor Percussion ensemble the best of luck!
Congratulations to all the students, Ms. M. and staff!  Click here for more information on the USBands organization and events.