A Clean Sweep at Governor Livingston – First Place! Best Music! Best Visual!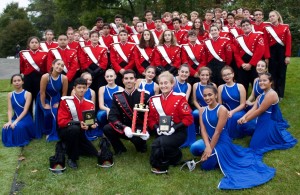 A breezy and overcast Fall day was the backdrop as the West Essex Marching Knights cleaned up at Governor Livingston High School on Sunday October 15, 2017. With a score of 88.8 – an 8.3 point increase from their last performance at Metuchen – the Marching Knights brought home 1st Place in Group 2 Open, plus honors for Best Music and Best Visuals!  And a special shout-out to Mr. Fabrizio, who won the "Best Director" award by popular vote of the fans…  Visit the Photos & Videos Page for a video of the winning performance!
Next up…The Chapter X Championships at West Essex!