WEBB Wishes All Our Seniors Best Wishes! 
Another memorable year comes to a close, this one punctuated by an array of virtual classrooms, social distancing, masked instruments, a (first ever) standstill Marching Season, and – finally – the long-awaited in-person live performances by the Jazz Ensemble, Concert Band, Symphonic Winds, Jazz Quintet, Indoor Percussion and Winter Guard.  How great it was to see and hear live music once again fill the auditorium!  And let's not forget the Marching Knights at the Memorial Day celebration in Caldwell! 
The year was also punctuated by the departure of Mr. Fabrizio as he moves to new and exciting experiences at Millburn High School.  We thank all our Band Parents for their generosity in presenting Mr. Fabrizio with gifts of appreciation and thanks, including tickets to the New Jersey Symphony.  The WEBB Executive Board presented the gifts during the year-end awards celebration for students under the big tent on Campus.  He will be missed!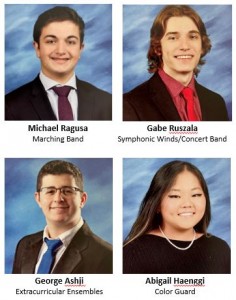 We congratulate this year's recipients of the West Essex Band Boosters Scholarships, as well as all the Band award recipients. Your perseverance, dedication and leadership example throughout this unusual school year were greatly appreciated!
WEBB wishes all graduating seniors and their parents the best of luck as you embark on the next chapter of your lives! We hope you come back to visit often!
For returning parents… we are already planning for the Fall!  Keep an eye out for emails over the summer as we plan for our annual Parent Gathering during Band Camp, the Marching Season Kick-Off Breakfast, Tournament of Bands Home Competition, and more!  There are so many ways for parents to help – and we'll need everyone to lend a hand as we (hopefully) get back to normal in the new school year!  Please click here to visit our Parents page for more information on volunteer opportunities.
Email us anytime at info@webandboosters.org if you have questions.
Have a safe and enjoyable summer!