The Curtain Closes on Masquerade's Competitive Season with a Bittersweet Final Performance at Hershey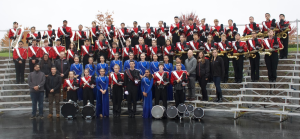 Despite the rain and a pre-dawn, 5:30am departure from West Essex, the Marching Knights provided a thrilling final competitive performance at the Atlantic Coast Championships for Group 2 Open at Hershey Stadium in Hershey Pennsylvania.  With a score of 89.4, the Knights brought home a Bronze Award among a highly competitive class of Marching Bands from across the region, including states stretching from the New York Metro area to Maryland, Virginia and West Virginia. Their performance brings to a close the 2017 Competition Season that was equally moving, exciting, inspiring and challenging.  A huge congratulations to the Marching Knights, Mr. Fabrizio, and the entire Staff for a fantastic season!
Thank you to all of the Band Parents who made their way to Hershey – either by the "Hershey Express" or on their own – the West Essex crowd was loud and energizing!
And a special thank you to the Parents of the PIT CREW for once again showing what teamwork is all about!