Marching Knights, Parents and Staff Celebrate "Tales from The East"
Students, Parents and Staff came together on Tuesday November 5, 2019 for the annual End of Season Marching Band Celebration Dinner, sponsored by the West Essex Band Boosters.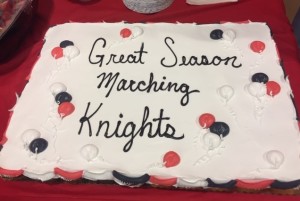 The dinner is a special way to mark the end of the competitive and memorable season of "Tales From the East, the Music of Scheherazade."
During the dinner, underclassmen signed Senior posters, as Mr. Fabrizio and all gathered reflected on the past 6 months since the show was announced during last June's Open House. We'll miss those busy Fall weekends, but eagerly await what's in store for next year!
Congratulations to everyone!