"Thank You" just doesn't seem enough to express our thanks to all the parents who braved the weather to produce one of the more memorable Tournament of Bands Chapter X Championship Competitions in recent history!
While Mother Nature had other plans for us, the West Essex Band Boosters rose to the occasion and put on a flawless show…as did the Marching Knights – we couldn't be more proud of our kids in their final competition of the 2019 Season!
Congratulations to all! We look forward to next year!
---
SUNDAY OCTOBER 20, 2019
HERE'S WHAT YOU NEED TO KNOW FOR COMPETITION DAY AND PREP DAY
Because parking space is limited, all parents must park on Squire Hill Road & Sunset Drive behind the Middle School (Accessible via Grandview Ave.) 
All parents should report to the Parent Volunteer Check-in table outside the Band Room upon arrival to collect their name tag and sign in
All parent volunteers, except for kitchen crew and concessions will be given a yellow vest to wear for the day. This will help visitors easily identify us should they need assistance
Saturday October 19 – Preparation in the High School Cafeteria Kitchen
7:30am – All invited to help prepare food and other set up activities (7:30am set-up; 8:00am cooking begins)

7:30am – Parking Logistics Meeting
Sunday October 20 – The BIG DAY! Arrival Times: 
8:00am – Transportation & Parking Volunteers Arrival

8:00am – Pop-up Canopy Tent Loaners Drop Off at Concessions

9:00am – Kitchen Crew & Concession Volunteers Arrival

9:30am – Air Gram, Candy Gram Volunteers Arrival

9:30am – Baked Goods Drop Off near Concessions (no later than 10am)

10:00am – 50/50, Program Sales, Ticket Sales, all other Volunteers Arrival

12:00pm – SHOW TIME!
Thank you in advance to EVERYONE who is helping to make this Tournament of Bands Chapter X Championship Competition a HUGE Success!  
---
ABOUT THE TOURNAMENT & HOW BAND PARENTS CAN HELP
This Year's Tournament of Bands (TOB) Chapter X Championship will be held on Sunday, October 20, 2019
The Tournament of Bands Chapter X Championship (our Home Competition), held on Sunday October 20, 2019, is a day to showcase the West Essex Regional School District, as Marching Bands and spectators from across the area will visit our campus for the Tournament's Chapter X Championships.  The event is a massive undertaking for WEBB, and its success depends on the active support from all of our Band Parents, whether or not your child is in Marching Band.  The Home Show is our largest fundraiser of the year, so a successful Tournament will lead to a successful year for all of the West Essex High School Band Programs!
Support from everyone is needed, no matter how big or small the contribution. Read on for how you can help!
 VOLUNTEER WITH SIGN-UP GENIUS
Sign-Up Genius is live!  Click here for the Sign Up Genius and select the job you prefer. There's so much to do, and we appreciate all the help we get! If you have any questions, please email us at info@webandboosters.org.
BAKE (OR SHOP) FOR THE BAKE SALE
Your help is needed for our very popular Bake Sale Table at the Tournament of Bands Chapter X Championships on October 20. Visitors love our baked treats and the kids come off the field HUNGRY for some goodies!  Click here to download our flyer for more information on how you can help by baking or donating your favorite recipes!
DONATE CANDY FOR "CANDY GRAMS"
We are in need of non-chocolate candy donations for Candy Gram sales. Boxes or packages of "Full Size" candy will be collected after all rehearsals from now until the Home Competition (Oct 20).  We can use any of the following:
Skittles, Starburst & Sourpatch Kids (full size)
DONATE SHOP RITE & COSTCO GIFT CARDS
Donations of Shop Rite and Costco Gift Cards will be collected after all rehearsals from now until the home Competition (Oct. 20).  Any amount is appreciated.  The gift card donations will help to defray costs of purchases and supplies.
LOAN US YOUR POP-UP TENT
Several pop-up tents are needed for the day, especially if it's sunny and warm.  If you have a tent you are willing to loan, please bring it to the concession area at the football field early Sunday morning.  Email Cathy Stampone (raycathy@comcast.net) in advance so we have an idea of how many we'll get. Be sure your name is marked or attached to the tent and bag.  Thank you!
SPREAD THE WORD!
Click here to download the Competition poster shown below to share with family and friends in your community!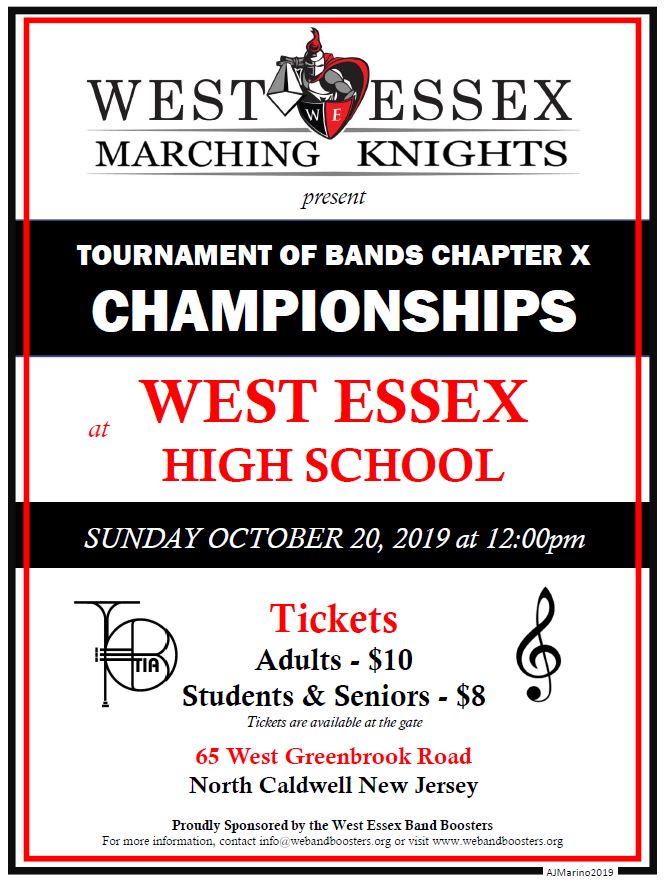 AD JOURNAL PROGRAM SALES (Deadline Has Passed)
Whether you can help on Competition Day or not, one of the most significant ways Band Parents can contribute to the success of the Competition is to sell Ads for the Championship Program Journal (Ad Journal).  The Ad Journal is a major source of funding for the entire day and all are encouraged to participate. Ads can be sold to local businesses as well as family and friends.
Click here to download a PDF copy of the 2019 Ad Journal Application and Letter to our supporters.
Remember: 30% of all Ad Sales will go towards your student's personal band account! That is the highest percentage of all our Fundraisers!